Goon Squad writes –
http://careandwashingofthebrain.blogspot.co.uk/2012/11/proof-that-pope-is-zionist-lap-dog.html

Proof That the Pope is a Zionist Lap Dog
One pic is worth a 1,000 words, so two ought to be worth, oh, I don't know, maybe
Six Million?
Cute little hexagram there Benny.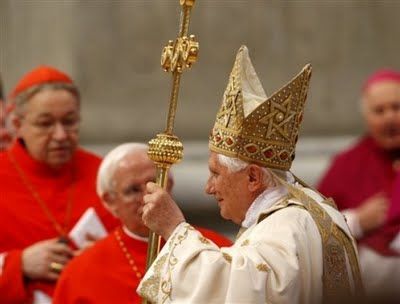 When Benny likes to relax with an altar boy, he likes to wear his
yarmulke.
In the end, this is what Benny really worships, death and destruction.
There is no doubt it. More and more people all over the world, and probably many of their governments behind closed doors, are beginning to see the Zionist state of Israel for what it really is – not only the obstacle to peace but a monster apparently beyond control; and they, more and more so-called ordinary folk everywhere, are beginning to turn against it.
Posted by

Greg Bacon
at 10:35 PM

TAP – that thing on his head carrying the hexagram is a fish's mouth originally used in pre-Christian religions with fish's body attached as garment. See pictures in Remember Who You Are? David Icke's Latest book.
Here is an Israeli general's son, a veteran. He explains how the Zionists run Israel. He calls the Israeli army the best fed, best equipped, best trained terrorist organisation in the world. They carpet-bombed Gaza. He explains they did it when all the kids were on the streets. The Zionist state has to go.
There is no private property in Israel. You can only lease from the State for 49 years, then property reverts to the State. Iran is a fiction to shift attention from Palestine….very effective. Palestinians are being kicked off their land every single day. Every week people are shot and killed. The Iranian threat is a fabrication.
The Tap Blog is a collective of like-minded researchers and writers who've joined forces to distribute information and voice opinions avoided by the world's media.