Stewart Cowan writes –
"Healthcare" in the UK is now a joke. I visited a GP's waiting room last week and half the posters and leaflets are not really about health at all, but more about the promotion of political correctness and reminding kids they can get confidential treatment behind their parents' backs. And we know what that means, don't we? It's not about grazed knees or the mumps, it's dishing out condoms, treating VD and arranging abortions.
COMMENTS –
Atos calls in public sector to take on outsourced medical assessments
Company charged with carrying out 'benefit tests' gives £22m contract to Lanarkshire NHS as MPs query value of deal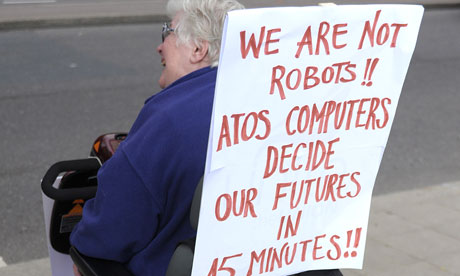 A protest by disabled people against cuts in their benefits. Charities have criticised Atos over the accuracy of its assessments. Photograph: Julian Makey/Rex Features
Atos
, the company contracted by the Department for Work and Pensions to carry out medical assessments of people claiming benefits, has subcontracted the
NHS
to carry out its consultations in Scotland in an unusual example of an outsourced contract being subcontracted back to a public organisation.
The decision has prompted questions from MPs over whether it represents value for public money for the state to contract work to a private company, if the company then in turn outsources the work back to the state sector.
Atos Healthcare has appointed the Scottish healthcare provider NHS Lanarkshire's occupational health arm, Salus, to help carry out assessments for a new disability benefit, the personal independence payment (Pip), which is due to replace the disability living allowance from 2013. The government aims to cut spending on the benefit by 20% over the next three years.
The Department for Work and Pensions (DWP) said Atos was receiving £238m for work in Scotland, north-east and north-west England, but said it was not possible to break down that figure to reveal the value of the Scottish contract.
Atos Healthcare said: "This is a new approach, working in partnership with NHS Lanarkshire. It means that consultations will take place where people feel most comfortable – in the heart of their local community – and they will be conducted by health practitioners that have first-class expertise in dealing with the needs of disabled people."
Atos said the supply chain model in Scotland was likely to be similar to those soon to be announced in England, although contracts were still being finalised.
Over the past three years, Atos has been carrying out work capability assessments for the DWP
has been heavily criticised
by disability charities for the lack of sensitivity and accuracy shown by its assessors. Since the test was introduced in 2008, more than 600,000 people have appealed against the conclusions of Atos assessments.
NHS Lanarkshire said it would be committed to ensuring that "everyone assessed is treated with dignity and receives a professional service delivered in a compassionate and transparent manner".
Dr Alan McDevitt, chairman of the British Medical Association's Scottish general practitioners committee, said: "There have been concerns raised about the dramatic increase in the numbers of patients being assessed as fit to work by Atos previously and a large number of successful appeals have been made against these decisions. Hopefully, we will see a reduction in the number of patients who feel that an unjust decision has been made."
But there was concern from MPs whether the process of re-outsourcing a contract back to the state system involved making unnecessary payments to the middle tier.
Anne McGuire, the shadow minister for disabilities, said: "There are questions to be asked about the effectiveness of using a private sector intermediary between a public sector organisation and a public sector organisation. It is at least unusual. It begs the question, why DWP didn't contract direct to Salus?"
Tom Greatrex, the Rutherglen and Hamilton West Labour MP, asked: "What cost is there to the public purse of government outsourcing to a private company, only for that same company to outsource the programme back to the public sector? It is time for the government to provide much needed clarity on what is already a chaotic and out of control system.
"This decision shows that Atos clearly recognises there is little trust in its ability to conduct assessments fairly."
Margaret Lynch, chief executive of Citizens Advice Scotland said: "Concerns have been expressed about whether this represents value for money, whether it will lead to a 'postcode lottery', and whether these assessments will repeat the flaws of those used for the ESA. We believe these are legitimate questions. We are also concerned that the UK government has imposed a 20% cut to the budget, and we would like to know how ATOS and these other agencies are sure they can deliver that before a single claimant has even been assessed."
The DWP said: "Atos were selected following open and fair competition and were assessed against established and published selection criteria including value for money. We think it's right that Atos will be working with local NHS services, which have roots in their local communities and will provide familiar surroundings for people who are going for consultations."
The Tap Blog is a collective of like-minded researchers and writers who've joined forces to distribute information and voice opinions avoided by the world's media.