Home educate.
Send them abroad but do something to stop the mass poisoning of our children with mercury, aluminum, untested viruses and things that tend to sterilize.
From comment by Chris J
Flu vaccine to be given to all UK children
Nasal vaccination of children aged two to 17 may save up to 2,000 lives a year, say experts, and will cost £100m a year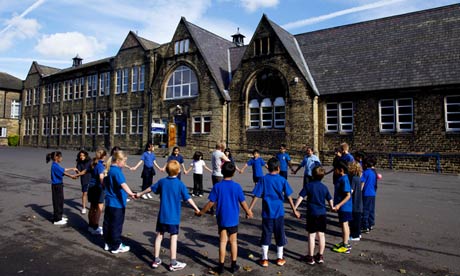 The vaccination of up to 9 million children is expected to be rolled out in 2014 . Photograph: Guardian/Christopher Thomond
All
children
are to be given the
flu
vaccination after experts said it could save up to 2,000 lives a year.
The scheme, which is expected to be rolled out in 2014, will see all children aged two to 17 given the vaccination through a nasal spray.
Younger children will be given the spray by their GP and schoolchildren will receive it at school.
The Joint Committee on Vaccination and Immunisation, which advises the government on vaccination policy, said the flu programme should be extended to children because it could reduce the rate of infection by 40%.
The health secretary, Andrew Lansley, has accepted the recommendation, a Department of Health spokesman said.
At present, over-65s, pregnant women and people with a serious medical condition, including children, are eligible for a seasonal flu jab.
The UK will become the first country to offer the flu vaccine to healthy children free of charge, with the measure expected to cost £100m a year.
Healthy children are among those least likely to develop complications from being infected by flu, but their close contact with each other means they are more likely to transmit the virus to one another and other vulnerable people.
The mass immunisation programme is estimated to lead to 11,000 fewer hospital admissions and 2,000 fewer deaths every year.
The Department of Health said it needed to examine a number of issues before the programme can be rolled out.
Masses of the vaccine, which will be used on about 9 million children, need to be sourced and a decision needs to be made on who will deliver the vaccine – whether it should be school nurses or other healthcare workers.
The Tap Blog is a collective of like-minded researchers and writers who've joined forces to distribute information and voice opinions avoided by the world's media.