Figure 2. Hurricane Erin track (atl.ec.gc.ca). Hurricane Erin was the closest to NYC on 9/11/01. Why didn't we hear about this in the morning news?
On the morning of 911, a hurricane was lurking just off the coast of Manhattan. This was no small hurricane. It was bigger than Katrina, that devastated New Orleans. Yet for some reason Erin, as this hurricane was called, was not mentioned on any news channel.
Dr Judy Wood is a former Professor of Mechanical Engineering. She presents the data of the hurricane and explains how the force of the hurricane could have been deployed as a weapon, using technology which I for one do not understand.
Hurricane Erin just off NYC on 911
Dr Wood is bringing a case against the US government and 20 corporations for misleading the public about the events of 911. Her case focuses on the collapse of the Twin Towers, which a person of her academic standing, would be well capable of analysing.
cover of Dr Judy Woods' book coming out in January 2011
Due out on the 27th January 2011 is the above book by Dr Judy Wood who as readers of this blog you will know is suing the US Government and over 20 US companies and individuals for putting out lies with regard to 911. This should be an excellent book as it is picture intensive and uses the actual pictures from her court case documents from these cases. Paisley Expressions.
Go to
http://paisleyexpressions.blogspot.com/2010/12/media-cry-wolf-about-terrorists-while.html
She illustrates the 911 phenomenon of hundreds of toasted cars which were burned, and melted, on one side only. This indicates the use of directed energy weaponry. Pictures of the toasted cars can be found through the links on paisleyexpressions. I tried copying and pasting, but the site appears well 'guarded'. Car doors wilted and buckled from the heat at the front, yet the back in picture below appears unaffected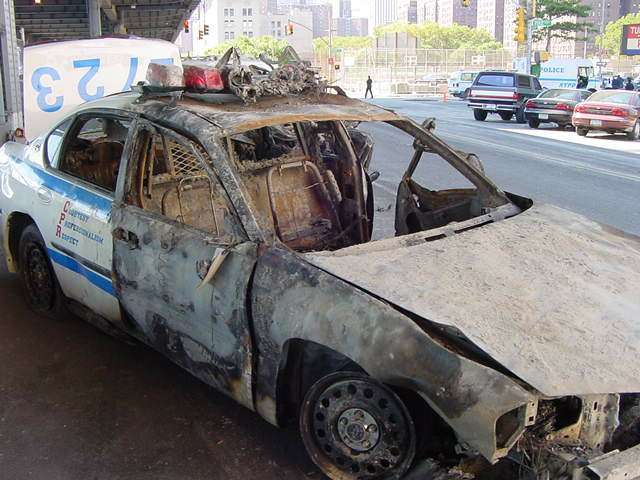 Easy. Found one of her pictures on google images!
Dr Wood points out that the buildings were substantially converted into dust, which was able to be scooped up with shovels. She gives explanations as to how this could have happened.
Anyone wanting a preview of what will be in this book can do so with this legal document
The Tap Blog is a collective of like-minded researchers and writers who've joined forces to distribute information and voice opinions avoided by the world's media.